Flood victims Germany get visit from vaccination bus instead of aid
It can hardly be surpassed in terms of unconscionability: while the German government spends more than 30 billion euros a year on refugee aid, migrants and the like (or 1 billion on the "fight against the right"), the victims and injured of the flood disaster – which, mind you, was at least a failure of the authorities, but probably a case of arbitrariness – get only 400 million euros in aid. That's about 300 euros (!) per affected person. But that's not enough: now the citizens who are in the reconstruction process are also besieged with "vaccination" campaigns.
Vaccination buses arrive in flooded areas.
As if the affected people had no other worries on their minds, the state government of Rhineland-Palatinate is sending "Corona vaccination buses" to the flooded areas along the Ahr River, so that people can get their "shot," so to speak, during the clean-up operations. And even the free choice of vaccines between Pfizer and Johnson & Johnson will "please" the flood victims.
"We must now be careful not to make the management of the disaster a super-spread event," is the cynical reasoning of David Freichel of the Corona Communications Staff of the state chancellor's office in the state.
It is possible that the state chancellery is referring to all the local and federal politicians who flouted their own Corona measures and directives during their PR visits to the crisis areas. Merkel and her political colleagues did not keep the minimum distance and did not wear mouthguards: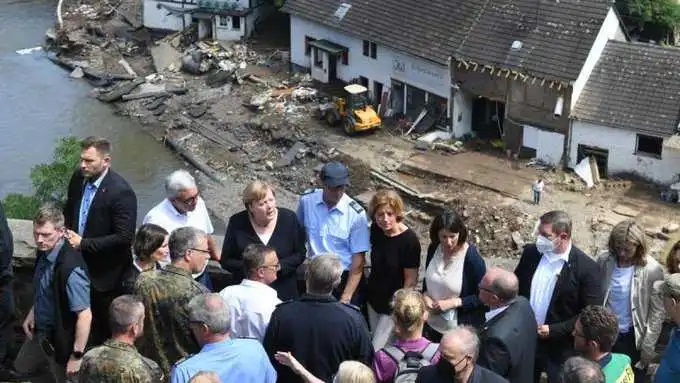 Instead, the citizen in need can once again be admonished and instructed not to deviate from the Corona hoax, even in a crisis situation.