Covid vaccine is Russian Roulette
Last year, fake news media told us that people suddenly dropped dead from corona. Now the reality is that people immediately drop dead after the vaccine.
The British government has released a report highlighting the negative reactions to both Pfizer and Oxford/Astrazeneca that have occurred since its release on December 8, and it is not a pleasant read.
DailyExpose en Principia Scientific International have outlined the most serious side effects.
UK government reports:
COVID-19 mRNA Pfizer- BioNTech vaccine analysis
Coronavirus vaccine – summary of Yellow Card reporting
If you study the report a more closely,  some shocking truths beecome clear.
The govt report collected data, entered through the MHRA Yellow Card Scheme until January 24, 2021.
At that time, an estimated 5.4 million had been injected with first doses of the Pfizer/BioNTech vaccine and 1.5 million with the Oxford University/AstraZeneca vaccine. About 1/2 million people received second doses, primarily the Pfizer/BioNTech vaccine.
Pfizer and Oxford/AstraZeneca vaccines very harmful
As predicted, with the increase in the number of vaccines administered, the number of adverse reactions also increased with 49,472 reported reactions to the Pfizer vaccine and 21,032 reactions to the Oxford / Astrazeneca vaccine. For both vaccines, this equates to 1 in 333 people having an adverse reaction. This percentage could be even higher, as some, if not most cases may not have been reported to the Yellow Card.
5 x blindness, 31x impaired vision and 634 eye disorders
Thanks to the Pfizer vaccine, which uses mRNA technology to instruct human cells to perform "a certain task," five people are now blind and another 31 have impaired vision. A total of 634 eye conditions have been reported so far.

21 sudden strokes
There have also been 21 cerebrovascular accidents thanks to the Pfizer experimental vaccine. A cerebrovascular accident is the sudden death of brain cells due to lack of oxygen when blood flow to the brain is obstructed by blockage or rupture of an artery to the brain. A cerebrovascular accident is also called a stroke.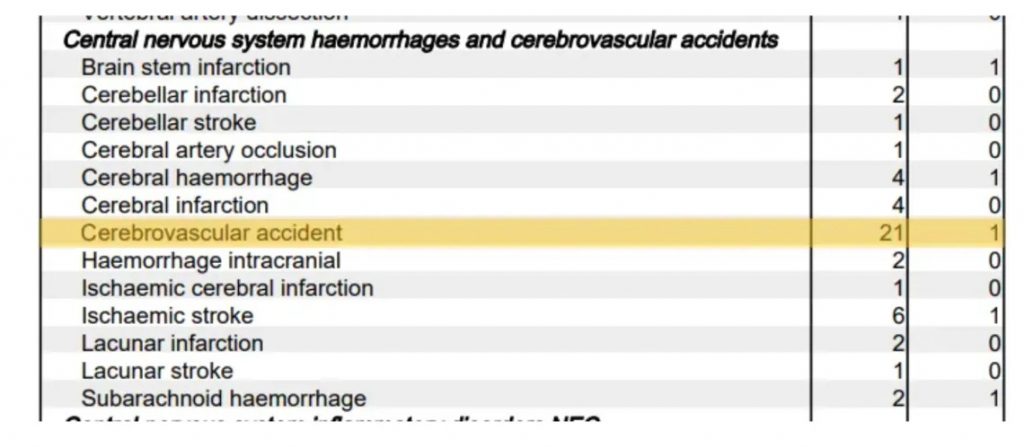 On December 4, the British government admitted that they did not know if the Pfizer vaccine had any effect on fertility.  This half denial has convinced many people with a desire to have children to take the vaccine.
The government's admission also included comments about pregnancy that were as follows:
There are no or limited data on the use of COVID-19 mRNA vaccine BNT162b2.
Reproductive toxicity studies in animals have not been completed . COVID-19 mRNA vaccine
BNT162b2 is not recommended during pregnancy.
In women of childbearing age, pregnancy should be excluded before vaccination. In addition, women
in childbearing age be advised to avoid pregnancy for at least 2 months after their second dose.
6 sudden abortions
The Pfizer vaccine analysis shows a total of four spontaneous abortions as a result of receiving a dose of Pfizer vaccine. How is this possible? So how can these women still be given the vaccine?
The government's own recommendation is that anyone who is pregnant or wants to become pregnant within the next two months should avoid the Pfizer vaccine, so why are pregnant women getting this vaccine? You won't hear anything about this in the mainstream media.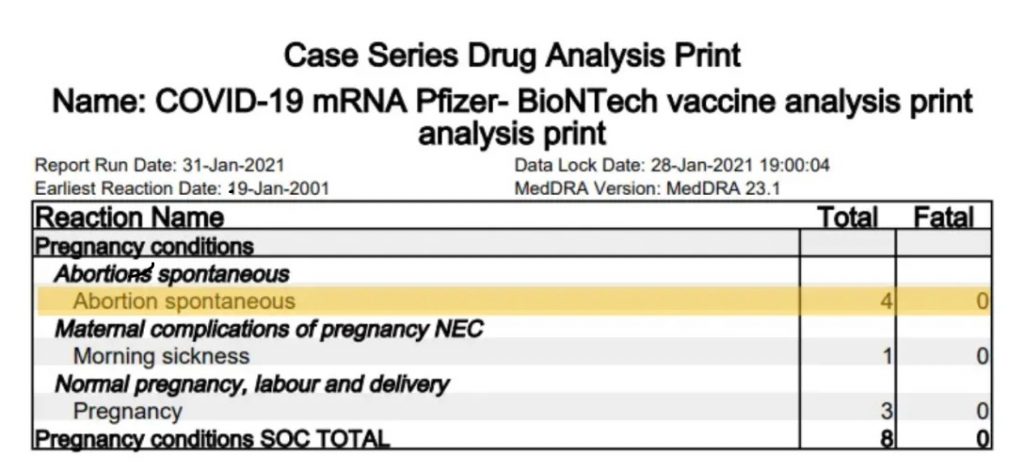 Unfortunately, there have also been 2 reports of spontaneous abortion after administration of the Oxford/Astrazeneca vaccines.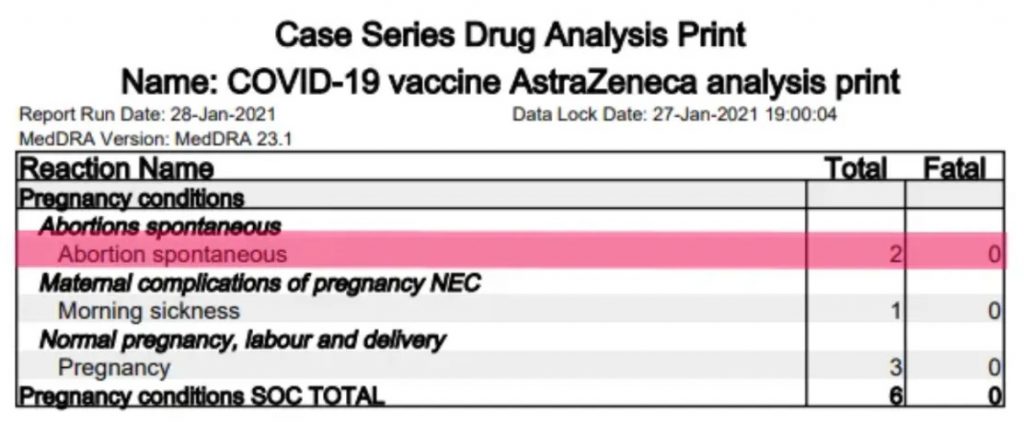 7 people dropped dead instantly after vaccine
There is even more shocking data in the report.
The Yellow Card received 59 reports of death and 7 reports of sudden death due to the Pfizer vaccine. That's 7 people who immediately dropped dead after receiving the shot. Last year we heard falsely that people were dropping dead from corona. Now the reality is that people are dropping dead from the vaccine.

Total number of (registered) UK deaths 107 (on January 24)
So that's five people who are now blind, 21 who have had a stroke, six who have had a miscarriage even after the government advised, albeit in the fine print, that pregnant women should avoid the jab, and 107 who have sadly died.
The total number of deaths due to the Pfizer vaccine as of January 24 is 107.
All as a result of receiving an experimental, temporarily (for the time being) approved emergency vaccine whose manufacturers have absolutely no liability in holding them accountable or compensating them for any side effects.

69 facial paralysis cases
We can also tell you that the Yellow Card Scheme shows 69 reports of facial Bell Palsy paralysis until January 24, 2021 due to the Pfizer / BioNTech vaccine.
Bell's paralysis is a condition that causes weakness or paralysis of the muscles on one side of the face. It is the most common cause of facial paralysis.
The government, of course, tried to reason away all these terrible side effects of the Covid vaccines. In the report, they stated the following:
A large proportion of the people vaccinated so far during the vaccination campaign are the very elderly, many of whom also have pre-existing medical conditions. Older age and chronic underlying illnesses make it more likely that random adverse events will occur, especially given the millions of people vaccinated. It is therefore important to review these reports carefully to distinguish possible adverse events from illness that would have occurred regardless of vaccination.
And that, dear readers, is the definition of hypocrisy.
Tens of thousands of people have died with underlying illnesses within 28 days of testing positive for SARS-CoV-2, yet their deaths have been labeled "Definitive Corona death" and added to the Covid mortality count (source).
But of course we should only use this method of counting deaths when it comes to Covid. Because when it comes to the experimental, unapproved "vaccine" we are told that they probably died due to their "underlying conditions" and should take any report of death with a "grain of salt."
The lousy thing is that we live under tyranny for almost a year waiting for this deadly vaccine.
Longer term side effects
These are just the immediate side effects of the Covid vaccine in one month in one country. And only the ones that have been reported. Many other side effects are not mentioned here. After all, we are talking about 50,000 cases in Britain alone.
We hold our breaths for the long-term side effects for the ill-informed people who, incomprehensibly but true, get vaccinated.
The deaths will continue. We've only just begun. And we are going to see serious long-term effects. That people still don't think about the consequences is so bizarre. Unreal.
In the meanwhile, the number of covid vaccine deaths worldwide trespassed 10,000, which is just the tip of the iceberg.