The Castle Rock Media Event – Starring China Joe
More and more evidence is being dug up from social media that this new administration is fake. Biden is not the president of the United States.
He was falsy elected to a failed dissolved corporate shell, Trump is the president of the real Republic. The inauguration that the media presented to us was nothing but a pre-recorded Hollywood-style impression.
If you look closely at the inauguration, you will see that some of it is real footage from outside and some is pre-recorded, this was put together and broadcast by international television stations as if it were a live event. Charlie Ward, who lives in Spain, said he got the video of the inauguration around 1 a.m. on January 20, 2021, which was hours before the real inauguration, if there was a real one.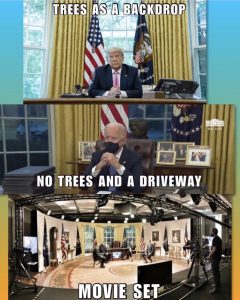 Biden addressing the country comes from a fake Oval Office that is actually a movie set. The featured image of the set is from a tweet from the Diplomatic Service of Germany. This Oval Office set is from Castle Rock Pictures, which built an elaborate White House set in Los Angeles for the 1995 film "The American President." The Castle Rock Oval Office has since been used for Disney's "Nixon" and 20th Century Fox's "Independence Day."
The American people were at best virtual participants in today's inaugural.

It was a purely staged media event for the elite.

All other Americans were invited to watch from afar, very afar.
@RudyGiuliani
Biden is not given intelligence briefings and he has no authority to issue executive orders. He is also told not to set foot in the Pentagon. Presumably, he is president of the dissolved Corporation of America. He does have some authority to sign civilian contracts, but the military is in complete control and Biden could be arrested at any time.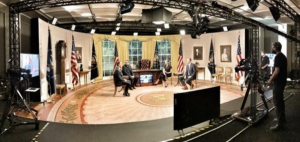 Joe Biden Denied Government Aircraft