Tiny girl begins to menstruate heavily after Pfizer Covid jab
Pfizer reported (in this case with reference: EUEC-10011405901) several possible side effects in a young girl between 3 and 11 years of age after Pfizer's Comirnaty injection. The exact age of the girl was not communicated.
The girl suffered from heavy and irregular menstrual bleeding. Thrombosis was also diagnosed. This is the condition where a blood clot, called a thrombus, forms in a blood vessel.
The report was entered into the EudraVigilance database on January 27. The information can be freely consulted by any citizen.
However, there is not necessarily a causal link between the two elements. A causal link cannot be excluded either. After all, there are many reports of menstrual problems after the Covid "vaccine".
Most girls get their first period – also called menarche – when they are between eleven and fifteen years old, but the first period can also occur earlier or later.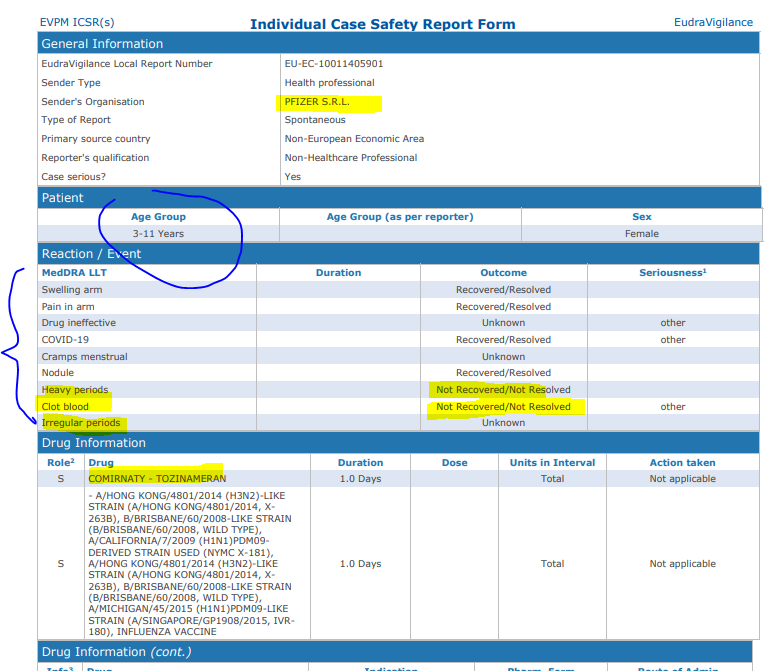 Order now: Your personal non COVID "vaccinated" declaration and other Freedom Products as well as detox pine capsules and protective pine needle tea